Podcast: Play in new window | Download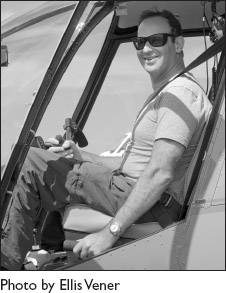 Educating or instructing can be it's own skill set regardless of the actual content taught. Philip Greenspun is a MIT lecturer and a flight instructor and shares his own approach to flying training.
If you are a helicopter instructor or in a check & training role then brush up your thought processes as we chat to Philip about his experiences and about flying training.
If you are currently a student going through training then you will have a chance to think a little bit more about what you are being taught and what it all actually means when it comes to the application in the air.
Philip has written some great articles about flying, instructing, aircraft type reviews and cross country touring that are worth a read.
You'll find links to resources and sites mentioned in the show further down the page.
Podcast: Subscribe in iTunes | Play in new window | Download
00:50 G20 conference
02:10 Movember
02:45 Instructor renewal and study tool ANKI
03:50 Philip Greenspun intro
06:00 How to teach people to hover
10:10 Putting the helicopter at risk
10:50 East Coast Aeroclub – Boston
12:30 Teaching autorotations
15:10 Aircraft attitude
17:00 How much a student can cope with
18:30 Blending lecturing and engineering methodology into flight instruction
23:20 Teaching philosophy – Paul Cantrell, Mike Rhodes
25:30 The point of teaching something – autorotation flare speed, mast bumping, low RRPM examples
28:30 Learning a checklist
31:00 Briefing format
31:40 Flight school software
33:30 Favourite aviation experiences
36:00 Where has flying taken you around the world/US
38:30 Feedback from people about flying articles
40:30 philip.greenspun.com website
43:30 How to get more website visitors
45:30 Angel flights
49:30 Tips that you wished you knew earlier
50:30 Instrument flying focus on the AI
53:20 Sponsors trainmorepilots.com
53:50 Get involved – Rotary Wing show on social media
54:30 Question of the day
Links from this week's episode:
Philip's website
East Coast Aero Club
Movember charity sponsor page
Anki Flashcard Tool
Philip gives a walk through of the East Coast Aero Club:


Be part of the conversation around this episode by leaving a comment below.