Podcast: Play in new window | Download
Flying long range assault missions at extremely low altitudes on NVGs with a cabin full of special forces soldiers is all in a days work for the men and women of the 160th Special Operations Regiment. Mike Durant was a Blackhawk element flight lead with the 'Night Stalkers' and in this interview talks about his flying career.
Mike Durant is the only surviving crew member of Super Six Four, a special operations blackhawk shot down by RPG fire in Mogadishu, Somalia in 1993. He was severely injured in the crash and then captured and held hostage for 11 days.
The events of the mission were later captured in the book and movie 'Blackhawk Down'. Prior to 1993 the 160th organisation was almost completely unknown even within US Army Aviation circles.
You might not know that Mike returned to flying duties with the 160th after recovering from his injuries and continued to fly in the unit for a number of years after that.
His career leading up to joining the Night Stalkers and prior to 1993 is also fascinating stuff and an insight into the skills and attitudes that it takes to get right to the top of the rotary wing pecking order. He took part in the US invasion of Panama in 1989 and was the first helicopter to shoot at a SCUD missile launcher in Iraq. Mike was also instrumental in the development process of the Direct Action Penetrator armed Blackhawk.
These are an amazing group of aviators and their support teams.
Some of the currencies they need to keep up: Instrument flying, NVGs, Formation, Aerial gunnery, Rappelling, HALO, Suspended extraction, Air-to-air refueling, Deck landings, HUET + more
Mike recovered from his injuries to return to active service with the 160th SOAR (A) and served out several more years. He now heads up Pinnacle Solutions as the company CEO.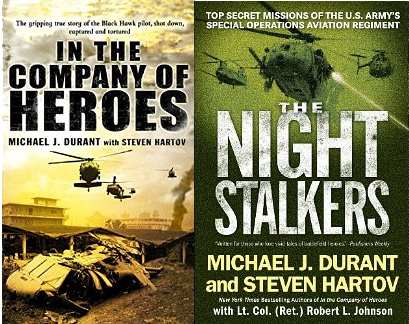 Podcast: Subscribe in iTunes | Play in new window | Download
In this week's episode:
01:10 Back from Rockhampton and flight in 212 Single
01:50 World Helicopter Day update – now added Tanzania and Panama
02:33 Mike Durant intro
04:08 1993 Operations in Somalia – part of life that happened a long time ago
06:50 First introduction to flying
08:45 Soloing through Army flight school at 7 hours mark
11:41 Medivac posting in Korea – Hueys and Blackhawks
14:39 101st Aviation Regiment – multi-ship, NVGs, sling loads, tactical operations, air assault
16:25 Instructor Pilot course and formation lead
17:10 160th Special Operations Aviation Regiment assessment – green platoon, physical requirements, ground nav, air nav without GPS -+30sec, terrain following radars, aerial refueling, IF
21:00 SERE training and stories from the book 'In The Company of Heroes'
22:10 Progression to Flight Lead
23:15 What it feels like to strap in
24:30 Operational experience prior to Somalia
29:10 Chip light in middle of mission
31:17 Direct Action Penetrator Blackhawks – Hellfire, 30mm cannons, rockets and miniguns, air-to-air missiles
36:35 Pet hate of the Blackhawk
38:55 Flight profiles in Somalia – 15-20 ship formations over the roof tops, 50/50 Day vs Night
43:45 Mission on the day of being shot down
48:56 Looking down at full left pedal but yawing right
51:12 Hit the ground still spinning
55:25 Ground battle and actions leading to posthumous Congressional Medal of Honor for Randy Shughart and Gary Gordon, Mike is only survivor and carried away by mob
59:45 Other aviation stories from the mission
1:06:30 Piracy in modern day Somalia
1:09:45 Transition back into civilian life
1:11:50 Pinnacle Solutions – Mike's company pinnaclesolutionsinc.com/
1:14:30 Flying advice to pass on
1:18:10 Episode Sponsors trainmorepilots.com
Links from this week's episode:
Mike is now CEO of pinnaclesolutionsinc.com/
Warrior Foundation/
In The Company of Heroes – Mike's own look at the events of his capture and career
The Night Stalkers: Top Secret Missions of the U.S. Army's Special Operations Aviation Regiment
World Helicopter Day
This is a recording of a talk that Mike gave to the US Army War College about the military background and lessons learnt from the operations in Somalia. They had requested a tank as the Search and Rescue vehicle but had been denied.

00:25 into this video you can see the Littlebirds making an approach to the roads in Mogadishu and the dust being through up.

DAP Blackhawk Firepower Demonstration

If you've been inspired by Mike's career or have a question about the episode then keep the conversation going in the comments below.